When it comes to dressing for success, nothing beats a well-tailored suit. But just owning a suit is not enough. It is important to ensure that the suit fits you perfectly, as a poorly fitting suit can make you look sloppy and unprofessional. Here are some guidelines to help you understand how a suit should fit, and the essential elements to consider when selecting one.
Jacket Length
The jacket length is one of the most important aspects of a well-fitted suit. For a good fit, the jacket should cover your butt and follow the natural lines of your body. If your jacket is too short, it can make your legs appear longer, which can throw off your balance and make you look shorter. On the other hand, if the jacket is too long, it can make you look shorter than you are. A well-fitted jacket should cover the seat of the pants, and the sleeves should end just above the wrist.
Chest Fit
The chest fit of your suit is also important. The jacket should fit snugly across your chest, without being too tight or too loose. If it is too tight, you may not be able to move your arms freely, which can be uncomfortable and limiting. If it is too loose, it can make you look boxy and unflattering.
Shoulders
The shoulder fit is another critical element of a well-fitted suit. The jacket shoulders should end where your natural shoulders do, without hanging over or pulling in. A good way to determine this is to check that the seams of the jacket line up with the edge of your shoulders. If they do not, you may need to try on different sizes until you find the perfect fit.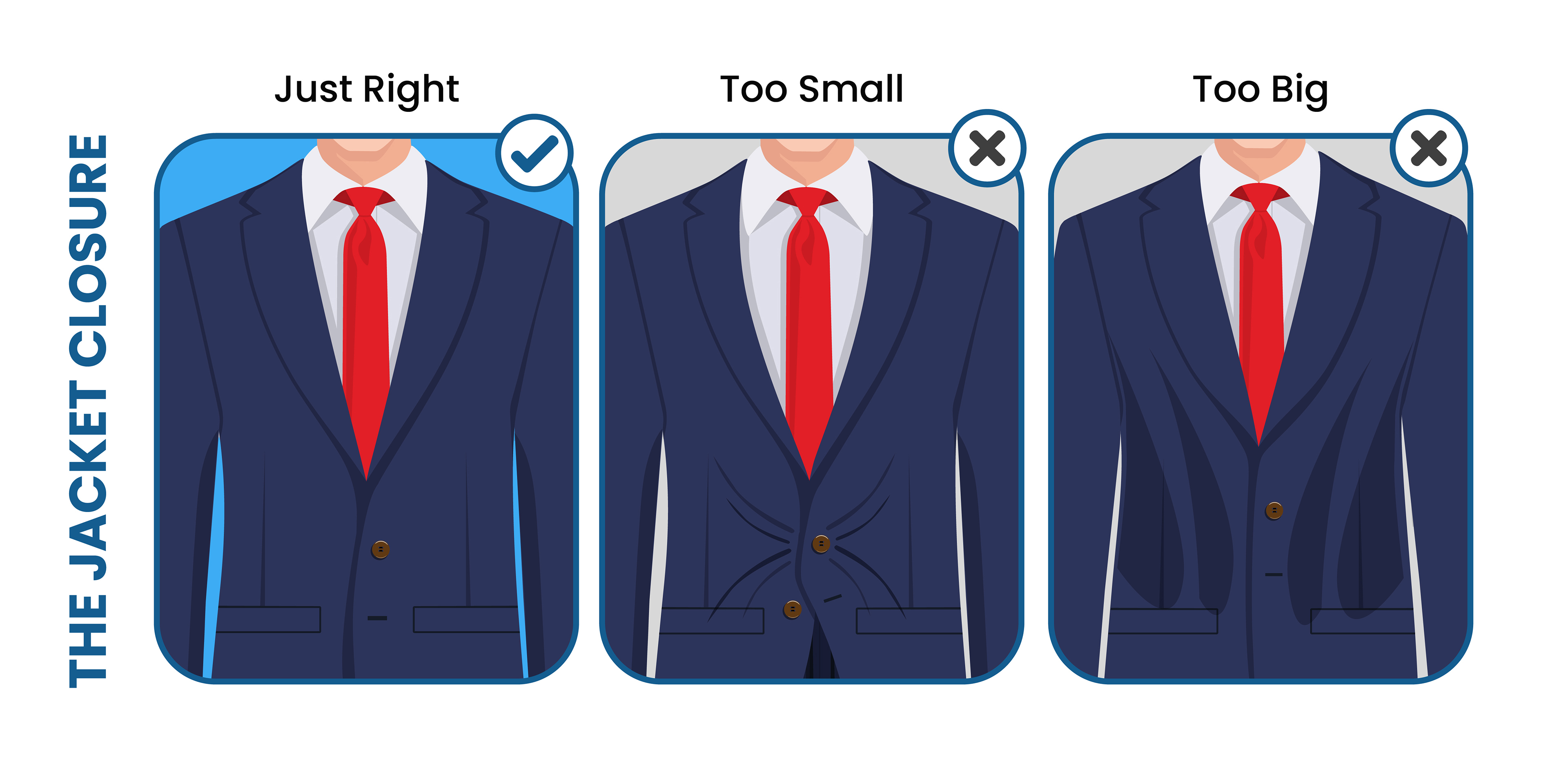 Buttons
The button placement of your suit jacket is also important. A good rule of thumb is that it should be buttoned only when standing, and undone when sitting down. The button closure should also sit comfortably on your chest, without creating any tension or pulling at the fabric. This will help you achieve a sharp and sleek appearance.
Sleeve Length
The length of your suit sleeves is another important factor to consider. The ideal length for the sleeves is when they end just above the wrist, allowing a small amount of shirt to show. If your sleeves are too long or too short, it can throw off the balance and make you look disproportionate. Ensure that the shirt cuff peeks out just enough to add a touch of detail to your appearance.
Additional Tips
Aside from the above tips, here are some additional tips to keep in mind when selecting a suit:
Ensure that the fabric of your suit is high quality to achieve a polished look.
Make sure that you wear a tailored shirt that is comfortable and allows you to move freely.
Avoid wearing a tie that is too tight, as it can make you look uncomfortable and unnatural.
Pay attention to color coordination and select a suit that complements your skin tone and hair color.
Aim for a classic look that will stand the test of time, instead of opting for trendy or flashy styles.
Conclusion
A well-fitted suit can make all the difference in how you present yourself in a professional setting. By keeping in mind the factors discussed above, you can ensure that your suit fits perfectly, making you look sharp, confident, and ready to succeed.
If you are searching about Men's Suit Guide: Basics & How to Choose the Perfect Suit – Suits Expert you've came to the right page. We have 7 Images about Men's Suit Guide: Basics & How to Choose the Perfect Suit – Suits Expert like proper and improper jacket length graphics #suitsmen | Designer suits, How Should A Suit Fit? – Men's Clothing Fit Guide and also How a slim suit should fit- short jacket versus long jacket | Slim fit. Read more:
Men's Suit Guide: Basics & How To Choose The Perfect Suit – Suits Expert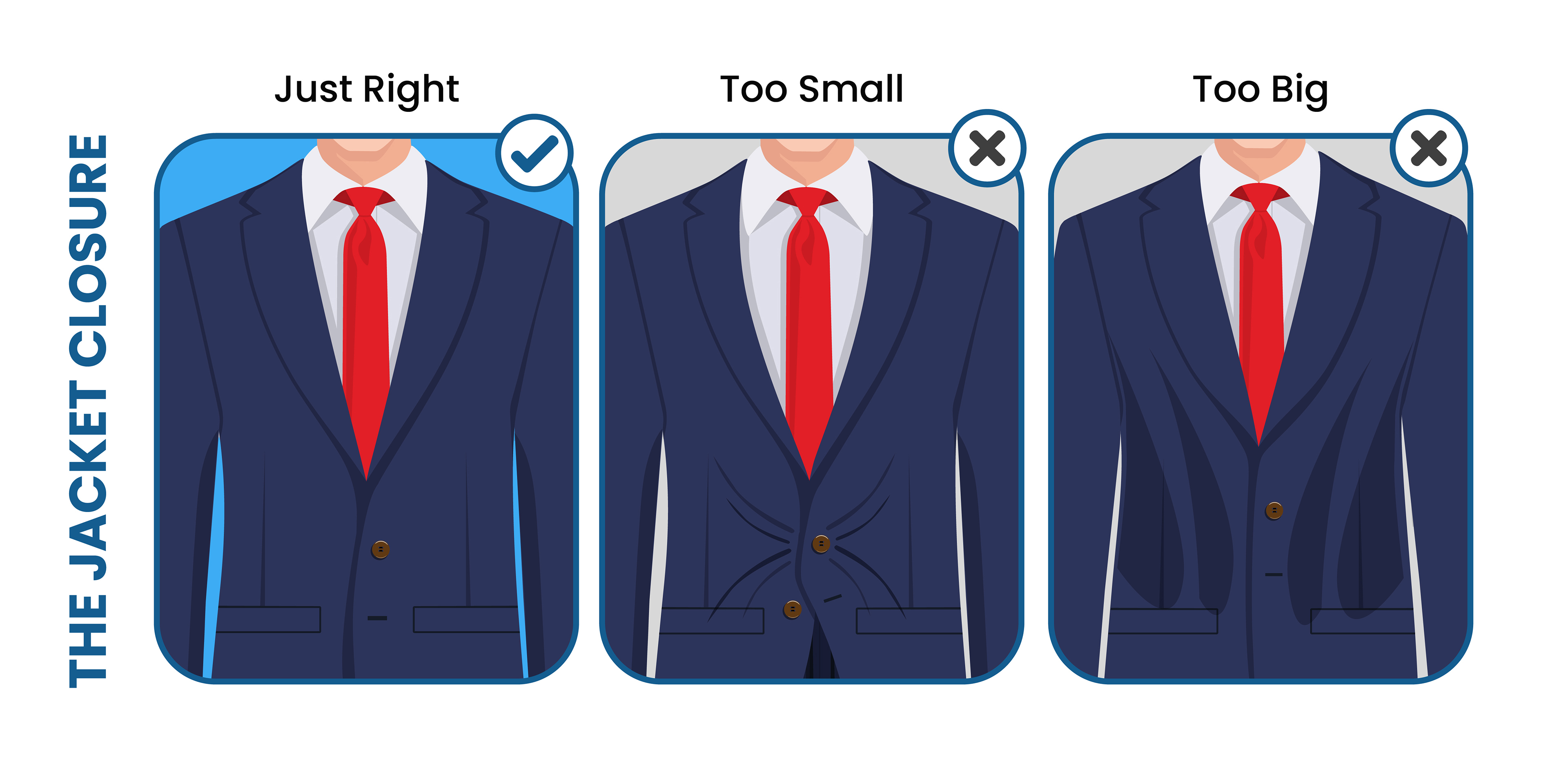 www.suitsexpert.com
closure suits
Back Of Jacket | Mens Fashion Suits Casual, Suit Fit Guide, Mens
www.pinterest.com
bespoke know supposed bespokeunit
How Should A Suit Fit? | The Black Tux Blog
theblacktux.com
suit fit should jacket too tight big perfect
How A Slim Suit Should Fit- Short Jacket Versus Long Jacket | Slim Fit
www.pinterest.com
slim fit
What Is Wrong With My Suit Jacket? | Ask Andy About Clothes Community
askandyaboutclothes.com
suit jacket wrong community
How Should A Suit Fit? – Men's Clothing Fit Guide
ashleyweston.com
blazer tailoring ashleyweston weston collar
Proper And Improper Jacket Length Graphics #suitsmen | Designer Suits
www.pinterest.com
improper tailored conselhos bespokeunit newclothingstyles highfashionformmens livinnlabellavita
Slim fit. How should a suit fit?. Back of jacket