As a business owner, you're always on the lookout for innovative digital marketing ideas to help grow your brand and reach new customers. Lucky for you, we've scoured the internet and found some great tips and tricks to get your business noticed in the digital world. From small tweaks to your website to entirely new marketing strategies, there's something here for every business. So buckle up and let's dive into some of the most effective digital marketing ideas out there.
First up, let's talk about the importance of your website. Your website is the first impression potential customers will have of your business, so it's crucial to make it a good one. One simple way to improve your website's engagement is to add video content. Whether it's an explainer video about your product or service, or just a fun behind-the-scenes look at your business, video content is a great way to connect with your audience and keep them on your website longer.
Another way to improve your website's engagement is to implement gamification. This could be as simple as adding a quiz or trivia game to your website, or as complex as a whole rewards program for customers who engage with your site. Gamification is a fun and effective way to keep your audience coming back for more.
Of course, your website also needs to be optimized for search engines. Make sure you're using keywords relevant to your business throughout your website, and aim to provide high-quality content that answers your customers' questions and provides them value. A well-optimized website will help your business show up higher in search engine results and attract more potential customers.
Next, let's talk about social media marketing. With the right strategy, social media can be a powerful tool for growing your business. One way to increase engagement on your social media channels is to use user-generated content. Encourage your followers to post photos with your product or service, tag your business, and use a branded hashtag. This not only provides you with high-quality content to share on your channels, but it also fosters a sense of community and brand loyalty among your audience.
Another social media strategy that's gaining popularity is influencer marketing. By partnering with influencers in your industry, you can reach a wider audience and tap into the trust and credibility these influencers have built with their followers. Make sure to choose influencers whose audience aligns with your target demographic, and be transparent about the fact that it's a sponsored post.
Email marketing is another tried and true digital marketing strategy. Make sure you're building and maintaining an email list of interested customers, and providing them with valuable, relevant content. Personalize your emails whenever possible, and be sure to include calls-to-action that encourage your readers to take the next step, whether it's making a purchase or following your business on social media.
Finally, let's talk about the importance of analytics. In order to truly know what's working and what's not in your digital marketing efforts, it's essential to track your data and make informed decisions based on your findings. Make sure your website is set up with Google Analytics or another reliable tracking tool, and regularly review your data to see which strategies are most effective and where you might need to adjust your approach.
In conclusion, there are many innovative digital marketing ideas out there for businesses of all sizes. Whether you're just starting out or looking for new ways to take your business to the next level, these tips and tricks will help you connect with your audience and grow your brand in the digital world. So get out there and start implementing these strategies today!
If you are looking for Top 5 Digital Marketing Tips for Your eCommerce Store in 2021 you've visit to the right place. We have 7 Pics about Top 5 Digital Marketing Tips for Your eCommerce Store in 2021 like 5 Digital Content Marketing Ideas for Small Businesses, Digital Marketing Ideas For Small Businesses | DigitalFry and also 103 small business marketing ideas, the 2017 guide – – Miami website. Here you go:
Top 5 Digital Marketing Tips For Your ECommerce Store In 2021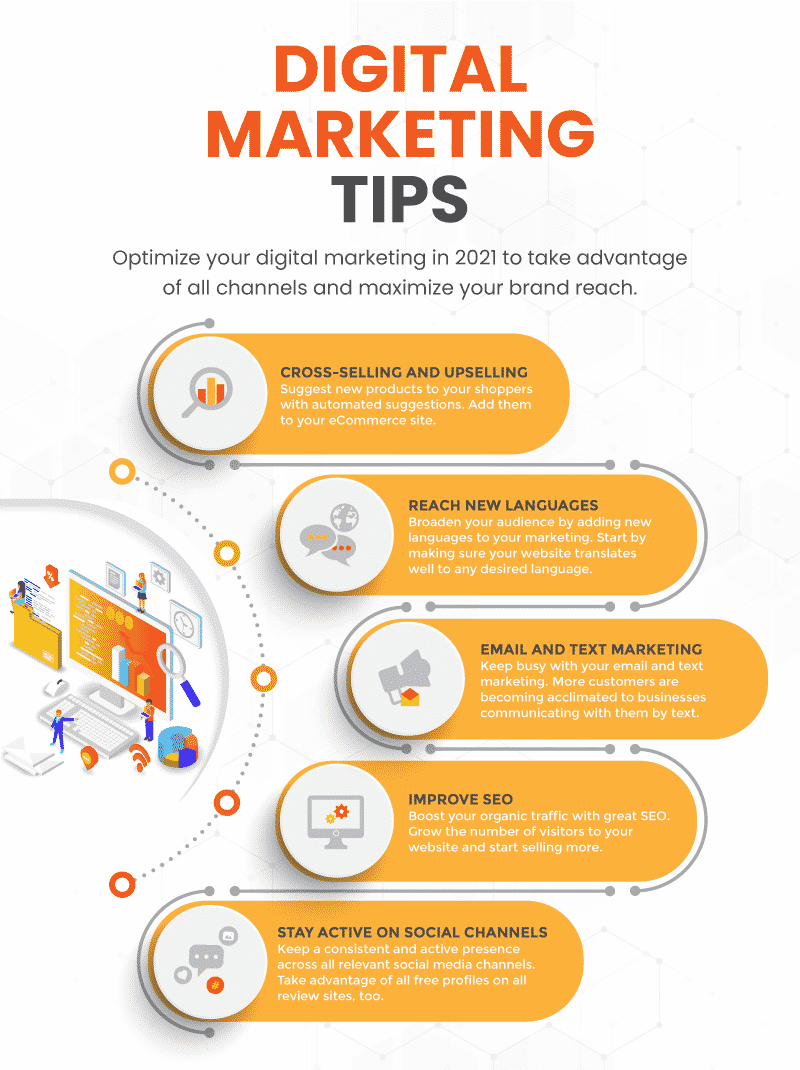 koronapos.com
advertising upselling koronapos
The Top 10 Benefits Of Digital Marketing For Small Businesses | Tipping
tippingpointus.com
marketing digital small benefits businesses business
Creative Digital Marketing Ideas For A Small Business – Mike Gingerich
www.mikegingerich.com
103 Small Business Marketing Ideas, The 2017 Guide – – Miami Website
webdesignplusseomiami.wordpress.com
Digital Marketing Ideas For Small Businesses | DigitalFry
digitalfry.org
6 Innovative Digital Marketing Ideas For Your Business – RedAlkemi #
www.pinterest.com
redalkemi
5 Digital Content Marketing Ideas For Small Businesses
slidebusiness.com
103 small business marketing ideas, the 2017 guide – – miami website. The top 10 benefits of digital marketing for small businesses. Digital marketing ideas for small businesses